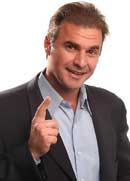 Mauricio Frusciante
Paint-Store.net

Founder, President
FROM THE COMFORT OF YOUR HOME OR OFFICE!!!
Unheard of just a few years ago, many people are turning to websites like Paint-Store.net to buy paint and painting supplies.
Featuring a minimum of 10,000 products online, Miami-based Paint-Store.net has been serving a growing client base for more than 3 years. Owner Mauricio Frusciante developed the company after working as a paint professional for nearly 20 years. His goal is to save clients both time and money when undertaking major painting projects. Ordering paints and supplies online helps people eliminate unnecessary aggravation, he said. "No more hunting for parking spaces or waiting on long lines for your number to be called. We deliver to your door."
Prices are competitive. The company works with four warehouses (Florida, Texas, Kentucky and South Carolina) and provides lead time of 72 hours on orders received by 7 a.m EST. Arrival time is usually 7-9 days via UPS ground. Custom tints are available but the lead time is between 48-72 hours more.
As with brick and mortar stores, Frusciante said Paint-Store.net customers should not underestimate the importance of selecting the right paint, application equipment, or tools and materials for any given paint job Many factors play into painting decisions, such as the nature of the surface to be painted, the age and the condition of the surface, and the type of paint previously used on the surface Frusciante encourages customers to make informed decisions and to consider performance comparisons between oil-based versus latex paints, selecting the right sheen or gloss level and, most importantly, the right color selection and amount of paint that should be purchased. The more knowledge the customer has going into a paint project, the happier they'll be with the end result and their internet purchase.
At Paint-Store.net, you'll get more brands, more selection, and more savings, every day! .